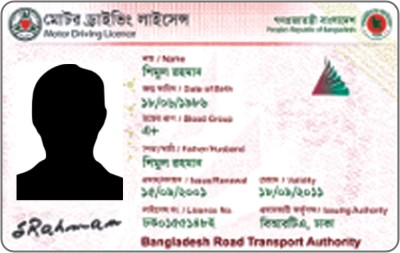 Bangladesh Road Transport Authority is set to start producing hi-tech driving licences to prevent the use of fake licences by drivers, a problem that is attributed to accidents on roads.
A total of 11.50 lakh licences will be issued in five years at the cost of Tk 37 crore from the public exchequer. The licences will have chips securely storing a driver's data.
"We are ready to launch production of the modern driving licence. We are just waiting for its inauguration by the prime minister or communications minister," Deputy Director of BRTA Sitangsu Shekhar Biswas told The Daily Star.
He said printing machines and other equipment have been set up in the BRTA Elenbari office in August, which having a capacity to produce 5,000 licences a day.
According to the plan, data will be entered into the database at all BRTA offices across the country but manufacturing of the licences will be done only at the Elenbari office of the BRTA. Data of 10,000 drivers has already been entered.
Tighter IT, which did digital voter enrolment before the 2008 general elections, is doing the job with the help of two French firms--Oberthur Technologies and Evolif Ltd. Oberthur is providing the driving licence cards with security features while Evolif is providing printer and printing technologies.
BRTA officials said the new driving licence will be produced using a biometric-based solution. It will have records of a driver's photograph, fingerprints, signature, among other details. The data will remain stored in a highly secure and rugged smart card.
They said the information will both be printed on the card and stored inside an encrypted chip that can be verified and updated by BRTA officials. The card itself will have multiple security printing techniques, some of which are very advanced.
The chip uses technologies similar to that of the e-passport.
Meanwhile, many in the BRTA doubt the success of the new venture as they said that the BRTA has no alternative but to depend on the police department for implementing the move on the roads.
"With the existing system, police personnel can easily identify the fake driving licences, but they hardly take any action against them," said a BRTA official requesting anonymity.
Asked about the matter, Sitangsu said BRTA will provide Dhaka Metropolitan Police with kits and online access to applications so that they can quickly verify the authenticity of a licence.
The official said police personnel will also be given equipment to check on the spot authenticity of a licence.