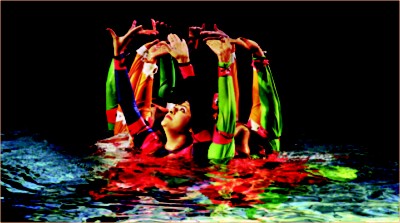 Theatre troupe Natukey and event management organisation Raktakarabi jointly arranged a staging of "Tasher Desh" ,one of Rabindranath Tagore's most entertaining dance-dramas, on July 29 and 30. However, unlike the run of the mill version of the dance drama, the actors depicted the scenes in a spectacular display of water ballet in the pool of National Swimming Complex, Mirpur, Dhaka. The play was performed in water for the first time in Bangladesh.
The actors who are all members of India Life Saving Society (ILSS), performed under the direction of Arijit Guha. ILSS, an organisation of volunteers, was formed in 1922 with the aim of rescuing people from drowning, according to an artiste.
A classic 1986 recording of the dance-drama performed by renowned singers Argha Sen and late Gita Ghatak was relayed through loud speakers while the actors depicted the sequences of the play with synchronised movements accompanied by unusual visual effects. The moves of the actors while poised in water was a refreshing experience for the audience who seemed to be quite taken in by the beauty of water ballet.
"Tasher Desh" was written by Tagore in the context of colonial rule in India. The dance drama is a satire on the rigidity of class systems, both Indian and British, employing the dramatic and comic device of a land of cards where a population is trapped in countless, inane rituals.
The plot revolves around a bored prince who sets out on a voyage accompanied by his friend, a merchant. They encounter a tempest. After a shipwreck, the duo find themselves in a land where seemingly ridiculous rules and discipline reign supreme. Adherence to strict rules in daily lives have taken their toll on basic human qualities like emotions. There is no place for the desires of the heart. Life in this country is literally like a game of cards -- all rules -- and nothing is spontaneous. The denizens, aptly, resemble cards.
The arrival of the two foreigners who advocate free will causes an upheaval and soul searching in this land of cards, and gradually one after another, the cards shed their lifeless, zombie-like identities -- appearing very different by the end of the play.
The production was brilliant in terms novelty of techniques. Notwithstanding some minor slips in synchronization, the lighting effects and the make-up of actors resembling cards made the show intriguing.