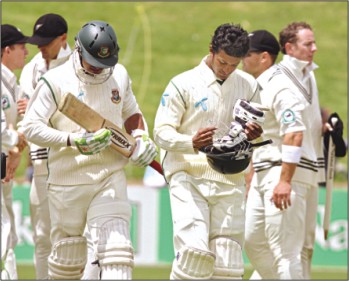 After the Tigers' meek surrender in the two-match Test series, coach Jamie Siddons pointed out that 'short-term goal' set by the previous management is behind the reason Bangladesh have failed to improve rapidly in Tests.
"I think there was a short-term goal from the previous management, definitely. Trying to win games as we go and I think we've had a short-term vision there. I think my vision is more long-term with young players brought in purely on skill and talent which have been identified," the Australian was quoted by TigerCricket.com.
"We've got a great group at the moment but I'm sure there are a couple of players who need to be looked at back home," he added while speaking in the post-match briefing after his side's innings and 137-run run defeat in the second Test on the third morning in Wellington.
Despite the frustrating first assignment with the Tigers, the new Bangladesh coach said that there was something positive to take out of the trip.
"Not in terms of score on the board but definitely in terms of hope and potential. The potential of our opening bowlers Mashrafe (Bin Mortaza) and Shahadat (Hossain) is enormous. The potential of our opening combination of Tamim (Iqbal) and Zunaed (Siddique) is pretty enormous as well."
"I see some really good things there and I think it is going to be seen in the next four-five months," he continued.
"It's going to take a while. I have to say two years as my contract is for that period but it may even take longer to reach the level where we can compete properly with New Zealand in New Zealand, which is a tough ask for any international cricket team," he said in reply to a question about how long it might take for Bangladesh to be competitive at this level.
He also said that the current players need to stay together as long as they can.
"I think they need to stay together. They need to travel with the coaching staff I have chosen which I think is supposedly the best coaching staff around in Bangladesh. I'd love this 15 to stay together as long as we can," he said.
Meanwhile, injured opener Tamim Iqbal was checked by a specialist in Wellington and was told to cover his injured thumb with a splinter.
"The splinter would come off in two to three weeks and an x-ray will be done after that. Based on the report we'll have an idea about when he can start training," said team physio Darryn Lifson.
The Tigers will leave Wellington for Auckland on Thursday to catch their flight to Bangkok on way to Dhaka.