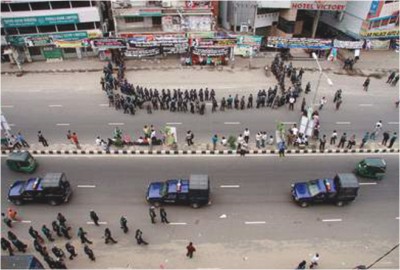 The opposition and the government must come to an understanding.
The country is reeling under many serious problems, electricity crisis has become unbearable, gas and water also not adequate, prices of essential commodities going up day by day, criminal activities have increased alarmingly, the government instead of finding solutions to these, is creating more problems by its adamant attitude about the caretaker government issue.
People did not like it at all, so they observed the hartal spontaneously. We are appalled at the way police acted on the peaceful procession of the opposition; the brutality shown by the law enforcing agents is unbelievable.
We request the opposition to go to the parliament and put up their case about the caretaker government. Life has become miserable; we do not want to suffer anymore by the uncompromising nature of our politicians. They should think about the people, not about themselves.