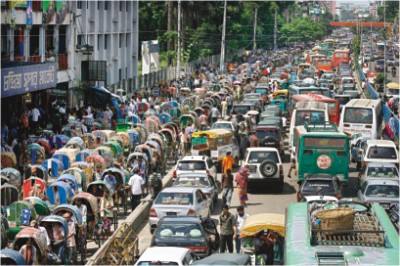 Kamalapur Railway Station with its spacious passenger terminal made us think that we have arrived at a great city but the moment we entered the city we got disillusioned because we were to face the narrow roads clogged with slow moving vehicles. When I saw cars moving swiftly with 'nation building people' in them along the airport road, I felt elated but when I was in the gridlock I could not but ponder over the doomed future of this city. We love this city because it has produced and cradled so many good souls.
Kazi Nazrul Islam is lying here, Sher-e-Bangla A K Fazlul Haque and Hossain Shahid Suhrawardy sleep here, Ziaur Rahman, a pious honest leader, has found his deserving place in the majestic Sangsad Bhaban area. Dhaka is now a mega city. We are proud of it but the successive government's failure to ease her woes has come to a breaking point.
I wonder why the government dillydallies to clean the Buriganga of all illegal constructions and pollution. Cannot we have spacious toll roads built by private companies? People are ready to give money for better service. We can solve the electricity problem if we can make it a profit generating sector. Will the government stop bickering with its rival and concentrate on the welfare of the people?