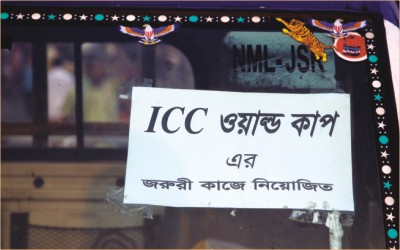 The other day I was bicycling when a microbus in the traffic jam caught my eye. I could read its sign from behind: "On Emergency Export Duty." Good, I thought, they are helping the economy. When I pulled alongside and absent-mindedly looked in, I was startled to see several children in school uniform. "Good God!" a voice said in my head, "are we now exporting our schoolchildren?"
That thought lasted only an instant until I remembered that around here vehicle signs are a dime a dozen.
When I was growing up, only doctors announced their profession on their vehicles (with a red cross on the rear windshield.) Since doctors made house calls then, presumably this sign helped them reach the patient's home quickly.
Things have changed. Today our doctors are so much in demand that it might be hazardous for them to announce their profession like this. Instead, many others now advertise their work by signs on their vehicle.
Thus, an airline's microbus says "Emergency Airport Service" while a hotel bus claims "Emergency Foreign Guest Duty." Do these proclamations really help them do a better job? And why are they all Emergency, by the way? Do we have any job or duty in this country that is non-emergency?
There are the government departments which display their office proudly. Everyone from "Legal Counsel to Foreign Ministry" to "Emergency Electric Service" to "At the Service of Judge Court" to "Oboshor Shubidha Board" announce their affiliation. But why should I care? It's not like I can run to them at a traffic signal and get that much-needed signature I've been chasing for weeks!
Then I saw a rickshaw cautioning me it was a "Slow Moving Vehicle." No kidding.
But some of the truly powerful carry no sign while some obscure offices and duties carry a long sign describing their duties. This is confusing. Perhaps we need a more emphatic set of signs to clear the confusion, each with its own subtext:
"I Am Important" (and you unimportant people should know your place which is behind me.)
"I Do Important Things" (by gum, my business is more important than your business.)
"New Teenage Driver" (oops, I hope you did not recognise me and my bad road manners, Uncle.)
"Don't Mess With Me" (pay heed, other drivers, or I'll see you in court.)
"Don't Mess With Me Part II" (traffic police take note if you don't want a transfer to Pirojpur.)
"I Am Really Not That Important, But You Don't Know That" (fooled you, didn't I?)
"I Provide a Service That Helps the Nation" (like shuttling the boss's children to school!)
Sorry, but signs like "I grow rice" or "I teach schoolchildren" or "I run a small business feeding a dozen families" will never make the list of important people signs.
By the way, I have not seen a "Newspaper Columnist" sign. Perhaps it is time to start one, but where to fit it on my bicycle?