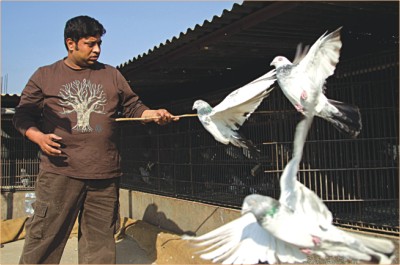 I am standing on a rooftop in Mirpur on a crisp morning in late January. The sky is a clear, pale blue and the sunshine just warm enough to balance the cold. It is a perfect winter day.
I also happen to be surrounded by three hundred and sixty pigeons.
That's because this is the house of Mr. Bhubon, a dedicate pigeon enthusiast. Mr. Anwar my connection to the world of pigeons has brought me here. I am waiting for the pigeons' daily exercise flight.
As the cage doors are opened, the pigeons zoom out. Within minutes they are flying in circular formations overhead, glittering like diamonds in the sunshine. These are Grivas pigeons, but Bhubon also has a smaller flock of fancy Homer pigeons. The Homer is much faster than the Grivas.
This rooftop is pigeon paradise. Meticulously designed wrought-iron cages house the birds. Buckets of seed-mix feed them. The cages have built-in waste removal systems. Parents raise their young in separate breeding cages. Sick pigeons rest and recover in a separate cage. There is even a hospice cage for pigeons too old to fly.
Until a few years ago, racing pigeons in Bangladesh meant the traditional Grivas pigeons. When "racing" them, competitors travel to a spot approximately 25-50km from home. Each person then releases the same number of pigeons (eg, fifty.) The winner is the one who has most pigeons returning home by sunset.
Homers are a recent introduction. They fly longer and faster, reaching altitudes where tailwind pushes them. The record-holder, I am told, flew from St. Martin's to Dhaka in two hours and forty minutes. Homers always come home, so the winner is determined by speed.
The pigeon racers live mostly in Mirpur or old Dhaka. While Homers and Grivas are both raced, Homer owners have clubs for organising races and activities. Each Homer wears a band with a serial number and registration from the club. Owners often practice selective breeding techniques to improve the performance of their pigeons over generations.
This hobby nay, passion - demands countless hours. If the sublime pleasure I feel watching the birds in flight is any indication, the rewards can be ample. But families of enthusiasts often suffer. I hear several stories of irate wives, who, tired of their husband's neglect of family, have thrown out pigeons and cages.
"Look!" Anwar's anxious cry jolts me. High above, a falcon is cutting swiftly across the flock. Luckily it does not attack. Later, Bhubon wants his pigeons back in the cage, but the birds disagree. It takes another hour to coax them in. I can see how this hobby consumes time.
Want to take up pigeon racing? You will need your own rooftop. After building a cage there, you can go to the racing pigeon market in Kaptan Bazar or Mirpur-1 and buy your pigeons. Then you can start training them.
Don't forget, you will also need a very patient and understanding spouse!