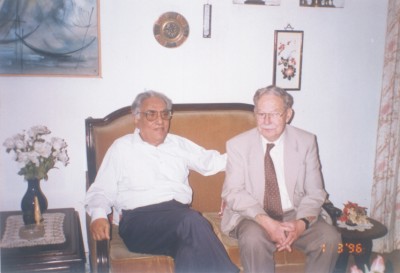 Today is the 14th death anniversary of Professor Azizur Rahman Mallick. He was one of the very first post-1947 students to take his doctorate at the School of Oriental and African Studies and to have Professor C.H. Philips, then head of the History Department, as his tutor. He arrived when Britain, shorn of empire and with a shattered economy, was seeking to fashion a new society better than the old and when SOAS was itself being transformed. But he also arrived when, after both famine and the violence and disruption of partition, a similar reshaping of state and society was under way at home, in East Pakistan.
Before the war SOAS had been a modest specialist institution, largely devoted to the study of the classical Asian languages from Arabic to Mandarin Chinese and run by a small body of erudite, eccentric and sometimes cantankerous academics. Its student body was small -- largely drawn from those who would serve the needs of British diplomacy and empire in Asia. The war, however, gave it a very different role, training men who would serve in the Arabic speaking war theatres of the Near East and North Africa and on the eastern fronts from Bengal to Japan itself. The reward was a large, quite generously funded post-war expansion of the School, in subject range and in staff. (Many of whom, like myself, had come face to face with other civilisations and had been excited by the experience).
The London in which Professor Mallick arrived was still in the grip of rationing of food and clothing and of warmth. Opposite the School was a derelict water tank, once needed for fire- fighting, while across Tottenham Court Road was a bomb or doodle-bug-levelled wasteland. Some sections of the School were still accommodated at a distance in commandeered houses; the splendid new library was still a planner's dream. The British Library with its domed reading room had emerged unscathed, but the India Office Library was still awkwardly housed in Whitehall and inadequately card-indexed. The reading room enjoyed a coal fire but to get to the drab cafeteria involved a long walk through subterranean corridors.
But for young students coming from the then India and Pakistan, fired by the achievement of independence, there was a welcoming buzz about SOAS and in Professor Philips a tutor of vision. The qualities found in Professor Mallick's thesis: the width of outlook, the marshalling of facts, set out and footnoted with scholarly care, and the vigour and clarity of argument and expression, all testify to qualities inherent in the man, as his future career confirms, but they are also qualities which Professor Philips was well-placed to strengthen and bring out. His personal tutorials were at once encouraging and probing, wide ranging, never skimped and marked always by an ability to reveal in one's own work, potentialities one had not yet discovered. The same was true of the departmental seminars he introduced which all postgraduates attended. They included a term devoted to the craft of the historian - the clear defining of a subject, the questions to be asked and time scale, the searching out of appropriate sources, the use of statistics, diagrams and maps, care in footnoting and then the actual writing and the preparation of a bibliography and any appendices. This brought together otherwise isolated research students and introduced them to each other and to all the teachers of the department. This introduction was followed by two terms in which each student had in turn to set out his/her subject, progress and problems for discussion by the others - an anxious but invaluable experience. It was one with which a whole galaxy of gifted scholars from East Pakistan/Bangladesh would subsequently become familiar. And if, from Professor Mallick's day there has been the sense of a true, productive community of scholar-historians at work in Bangladesh, between them creating a fine national library and archive and a series of splendid co-operative volumes on their country's history, perhaps a little may be due to many shared experiences at SOAS.
For someone who, like Professor Mallick, might later be charged with the creation and running of a department, even a university, or the task of representing their country or holding high office, Professor Philips also had much to offer. Philips had spent part of his childhood in India, but as the son of an engine driver on the East India Railway, not a member of the "twice-born." He was not wedded therefore to their vision of the past, had no desire to see independence denied and was glad to see the energies released by freedom creatively employed. (As a leading figure in the Army Education Corp. he had actively responded to the need for adult education as a preparation for demobilisation of the British army, especially on the theme of "new Britain.") What he and Professor Mallick talked about in their meetings we may not know, but their common interest in scholarship and the university world was surely a part of the exchange -- the more so as Philips had toured East African educational institutions at the war's end and had a hand in the development of Khartoum University, with which SOAS had special links.
My own links with Professor Mallick were much slighter -- I was of course a fellow member of the history seminars and I was able to share and profit from working with him on draft chapters when Professor Philips was unavailable for a supervision. But I shared with him the experience of SOAS growth -- and oddly I knew Chittagong from wartime days.
I was conscripted into the army early in the second World War and when, after a salutary spell as a lance-corporal in the Yorks & Lancs I emerged as a 2nd Lieutenant, I chose to join the Indian rather than the British Army. In 1943 my Indian battalion moved to Chittagong and forward to Dohazari for the first attempt to dislodge the Japanese at Akyab. It was at this time that I first saw Chittagong port and the strange hilly landscape on which the university would be built. I also had the experience of sailing down the Karnaphuli river in three dugout canoes on return from a patrol towards the Kaladan river. I would visit Dhaka and Chittagong again in 1996 to meet Professor Mallick and other old students, to marvel at the growth of the port, the taming of the river with a major hydro-electric works and admire the now mature Chittagong University, his handiwork and one of his permanent monuments.
The writer is Reader Emeritus in the History of South Asia University of London.
Work is in progress of a commemorative volume on the life and achievements of Prof. A.R. Mallick.