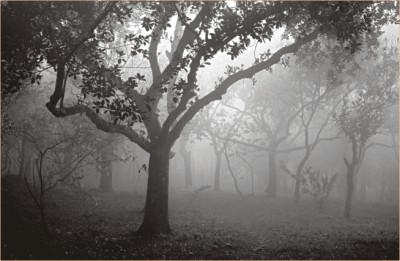 It was barely light outside when I awoke, cold and groggy. My limbs under the quilt groaned at the cold and refused to move. But the prospect of photographing a winter's morning in the countryside was tempting. Dragging myself out of bed, I put on my clothes, hat, jacket and shoes. Minutes later, I was outside, camera and tripod in hand.
A fine odour immediately hit my nostrils: a melange of the smell of trees, grass, dead leaves and hay, all carried by the fine droplets. The mist enveloped me after a few steps. The morning sun was having trouble waking, too, for I could not see clearly beyond a few feet. The details of the trees blurred as the distance grew until everything merged into a dense patch of gray. Overhead, the branches of a Chhatim tree disappeared in a spiral into the haze. An extra thick layer of mist hovered over an empty rice field looking forlorn with its shaved stalks.
Everything on the ground grass, hay, bunches of leaves, even the soil - was like wet sponge. My shoes and trouser legs were drenched in minutes. I felt something drop on my shoulder and jumped, hoping it was not a bird's dropping. No, it was water. The dew accumulating on leaves formed drops that slipped to the ground. On some leaves it accumulated along the edges, giving them a crystalline sharp outline.
I stood still for a few minutes. As the rustling of leaves underfoot fell silent, other sounds of morning came into focus: the pitter-patter of dew drops and the shuffle of an early squirrel searching for breakfast. A lonely dove warbled from a distance. Presently, more birds joined in: some whistled sweetly, some cackled, while others screeched. Yellowing jackfruit leaves, weighed down by the water, dropped here and there. Music wafted in from village radios afar, the mist modulating it between clarity and muffle.
The sun started asserting itself and the grey morning slowly came alive. Hesitantly at first, the pencil-thin rays made their way through the mist. The world gradually shifted from black and white to colour as light reflected from the grass, tree-trunks and leaves, illuminating a dew-laden spider-web here and a shy wildflower there. This light had unexpected qualities: looking away from the sun, it had a bluish cast, but towards the sun, the faint pink and orange of morning light was intensified by the mist.
Overhead, the sun claimed its first victory over the mist and the high branches basked in golden sunlight. The battle moved lower as those hesitant rays now became shafts of light among the trees, playing peek-a-boo with the mist, branches and trunks. But the game was short, for the sun's rays rapidly grew bolder until they burned up the mist completely and the world was awash in light.
Dear reader: Happy New Year! May 2011 bring you lots of light.