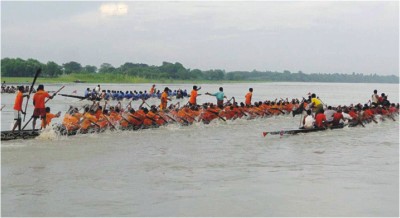 A boat race was held on the river Gorai last Monday on the occasion of Eid-ul-Fitr. Golabaria Jubo Sangha of Dariapur union in Sreepur upazila arranged the traditional competition in conjunction with the adjoining villagers.
A total of 16 boats from Magura, Jhenidah, Faridpur and Rajbari took part in the event, which attracted thousands of people. A boat named 'Jai Bangla' of Jagadish Mondal from Kuchiamora union in Magura sadar upazila captured the first prize. The boat of Kanai Lal Biswas of Baliakandi upazila sadar called 'Chokher Polok' emerged second while the boat 'Ma-er Doa' owned by Ramesh Biswas from Akpotra village from the same upazila bagged the third prize in the competition.
With Mohammad Rois Khan, secretary, National Board of Revenue (NBR), in the chair; Dr. Nuruzzoha, director of Sky-view group gave away the prizes as the chief guest, while the executive engineer of Roads and Highway, Faruk Ahmed was the special guest.