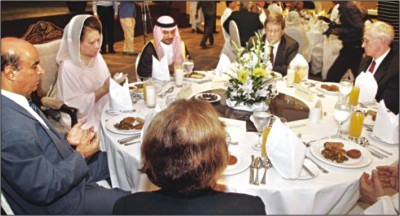 Leader of the Opposition in Parliament and BNP Chairperson Khaleda Zia took Iftar with diplomats from different countries at the city's Radisson Hotel yesterday.
She also exchanged pleasantries and views with the guests.
A munajat was offered before breaking the fast seeking peace, progress and prosperity of the country.
Ambassadors, High Commissioners, charge d' affaires of different countries and representatives of UN organisations attended the Iftar, include Saudi Arabia, Pakistan, India, Bhutan, Sri Lanka, Afghanistan, Malaysia, Brunei, Thailand, Singapore, Vietnam, Qatar, Iran, Egypt, Palestine, Turkey, China, Japan, EU, Australia, Germany, France, Italy, UK, USA, Canada, Norway, Spain, South Korea, Sweden and UNDP.