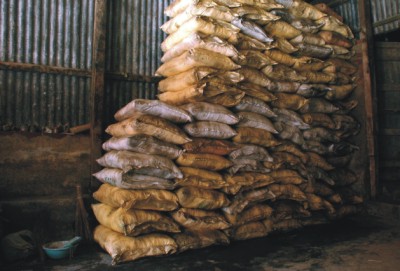 The fertiliser dealers in Bogra have stopped taking delivery of fine granule urea fertiliser alongside Chinese urea imported about 10 years ago.
Bangladesh Chemical Industries Corporation (BCIC) Regional Manager (RM) Anis Uddin said they are holding talks with the leaders of Bogra district unit of Bangladesh Fertiliser Association (BFA) to resolve the matter.
BFA Bogra unit General Secretary Alamgir Hossain said the BCIC authorities have assured them of supplying new fertiliser instead of old one and coarse granule fertiliser instead of fine one from Bogra godown.
He said godown in charge Jasim Uddin has directed 160 dealers of the BFA to take delivery of 7296 bags of damaged Chinese fertiliser. They have also been directed to take delivery of 6233 bags of fine granule fertiliser from the godown.
Contacted, BCIC Regional Manager Anis Uddin said there is a stock of 16,000 tonnes of urea at Bogra godown and the dealers have been given allocation as per government rule.
Asked about the BFA leader's allegation of compelling the dealers to take Chinese and fine granule fertilisers, he declined to comment.
He, however, said fertiliser supply from Bogra godown has remained stopped since Thursday due to a conflict between BCIC and BFA over allocation of old and fine granule fertilisers to the dealers
Alamgir Hossain claimed that the Chinese fertiliser, imported in 2001, has lost its quality. He said there is no demand also for fine granule fertiliser in Bogra region.