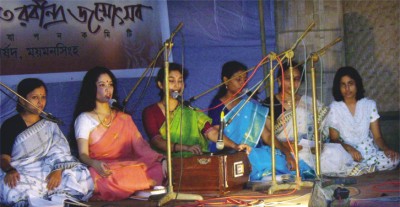 Marking the 69th death anniversary of Nobel Laureate poet Rabindranath Tagore, Rabindra Parshad Mymensingh unit organised a programme at Rabindra Batamuul Mancha on the campus of Mymensingh Teachers Training College on August 6.
The programme included a discussion, musical soiree, dance sequence and poetry recitation.
The artistes of Shishu Tirtha Anandadhani Sangeet Bidhayatan rendered the inaugural chorus. Rima Saha, Shakil Hashmi and Sangjukta Chowdhury among others joined in the chorus.
Artistes of Shabdha Abritti Charcha Kendra took part in the poetry recitation session while cultural groups Chaturanga and Setubandhan, performed dances with several popular songs of Tagore. The artiste of Udhichi Shilpi Goshthi staged Tagore's drama 'Shahthi'. Amjad Dolon presented the programme.
A discussion was held with Professor Nazrul Hayat in the chair. Among others Dr. Marifi Khan, principal of Shaheed Syed Nazrul Islam College, Rabindra Parshad secretary advocate Habibuzzaman Khurrom, Yeazdani Koraishi Kajal, convener of the celebrating committee took part in the discussion.
Sarwar Kamal Robin, secretary of Udhichi Mymensingh delivered the inaugural speech and Swapon Dhar presented a keynote paper on the occasion.
The speakers said that Rabindranath, a poet who cultivated all sections of literature and culture, enriched Bengali culture and brought it to world standard. Tagore's writings are not only enriched with literary elements, but also with philosophical reflections on leading a meaningful life, the speakers added.
Terming Tagore as poet, playwright, novelist, composer and painter, the speakers also said that writings of such an astounding talent should be spread among the younger generation to build a stronger country. His activities as an educationist, a social and religious reformer and as a politician made him the most widely regarded literary figure in this subcontinent, they went on.
The year-long programme to mark 150th birth anniversary of Tagore was also announced at the function. The programmes included discussion on organising music, dance and recitation competitions at educational institutions, exhibitions of films, collection of Tagore memorabilia and special publications on Tagore and cultural exchange among the districts.