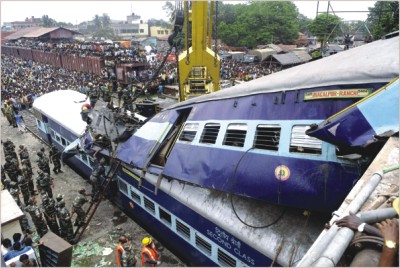 At least 62 people were killed and over 92 were wounded when an express train rammed into the rear of another train waiting at Sainthia station of West Bengal yesterday.
A statement issued by Eastern Railway, headquartered in Kolkata, put the death toll at 62 and the number of injured at more than 92.
Among the dead were 39 men, eight women and two children, railway officials said.
The accident took place yesterday, at around local time 2:00am (20:30GMT Sunday), when Siliguri-bound Uttar Banga Express running at a high speed apparently overshot the signal and came on the same track crashing into the stationary Bhagalpur-Ranchi Vananchal Express at the station in the Birbhum district, about 200km from Kolkata, railway officials said.
The impact of the collision was so severe that the roof and the sides of two compartments of Vananchal Express were reduced to a heap of mangled metals, and the main section of one train carriage had been flung over an overhanging railway footbridge.
Rescue workers had to cut their way into the mangled wreckage to rescue the passengers.
Emergency officials said all the passengers trapped in the wreckage were rescued and all the injured were taken to hospitals.
Hospital sources said from among the 92 injured, 35 were in critical condition.
Driver MC Dey and assistant driver NK Mandal of the Uttarbanga Express and guard A Mukherjee of Vananchal Express were among the dead, the statement said.
Railway Minister Mamata Banerjee appeared to raise doubts whether it was a sheer accident. "We have so many doubts in our mind. Whatever has happened is not casual," she told reporters before leaving for the spot.
"We are still finding out the details and we will take all necessary steps and action and find out who is behind this calamity," Banerjee said.
There is speculation that faulty signalling may have been the cause of the crash. A police investigation is now under way.
This was the second major railway accident in West Bengal this year.
In May, nearly 150 people died when a Mumbai-bound Jnaneshwari Express train derailed and was hit by a goods train. Police accused Maoist rebels of sabotaging the track, but Maoists denied the charge.
Accidents are common on the state-owned Indian railway, an immense network connecting every corner of the vast country.
It operates 9,000 passenger trains and carries some 18 million passengers every day.