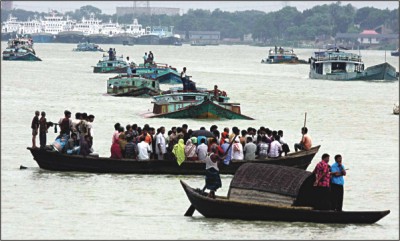 Despite the government ban on plying of sand laden vessels at night, several thousand such carriers navigate after dark posing high risk to passenger vessels.
The sand carriers are violating the ban in the absence of proper monitoring by the authorities concerned and people's awareness about the rule, said Associate Prof K Shariar Iqbal of Naval Architecture and Marine Engineering department, Buet.
In the last three years, over 50 people were killed in waterway accidents caused by collision between sand laden vessels and passenger carriers.
On July 4, at least eight people died while eight more went missing as a passenger engine boat capsized being rammed by a sand laden vessel on the river Shitalakkhya at Narayanganj.
The same accident occurred at Konda, Ashulia on July 11. This time the price had to be paid with a life of a garment worker.
The department of shipping through a gazette notification in 2007 imposed a ban on movement of sand laden carriers during nights in the wake of such an accident on February 28 that year. The accident claimed 44 lives.
Following the notification, the shipping department launched several drives to stop sand laden vessels plying at night. But the drives soon ceased to continue presenting vessel owners with the opportunity to resume the practice, which caused another accident in 2009.
An investigation committee found that the operator of the sand laden vessel, that had caused the accident, was unaware of the ban. The committee again recommended stopping sand laden vessels ply at night and creating awareness through announcements.
The probe report said such accidents would continue to occur if the recommendations are not implemented. The prediction came true on July 4 this year.
According to shipping department statistics, over 3,000 registered sand carriers ply different waterways across the country. A leader of Bangladesh Cargo Vessel Owners Association put the figure at 10,000 including the unregistered ones.
Talking to The Daily Star, a top official of Department of Shipping said they could not continue the drive to stop plying of sand carriers during the night due to lack of cooperation from district administration concerned.
Inspector of the Inspectorate of Inland Shipping Shafique Aiyub identified lack of sufficient budgetary allocation and logistic support for the discontinuation of the drives.
Bazlur Rahman, director general of the shipping department, assured that his department would strengthen monitoring to avoid further accidents.
"But inadequate manpower is the major hurdle to proper monitoring. I have already urged the government to recruit sufficient number of people in the department," Rahman said.