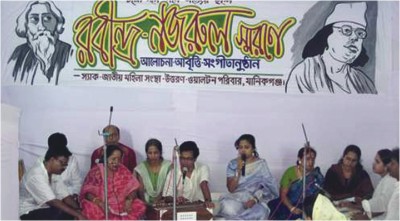 In memory of Nobel laureate Rabindranath Tagore and National Poet Kazi Nazrul Islam, a cultural programme was held at the Sangskritik Biplabi Sangha (SABIS) Auditorium in the district town here on Wednesday night.
The programme featured a discussion, poetry recitation and rendition of Rabindra and Nazrul Sangeet.
Mohammad Zakir Hossain discussed on Kazi Nazrul Islam and Poritosh Acharja discussed on Rabindranath Tagore. Syed Nazmul Hasan and Mustafizur Rahman Mamun recited poems.
Recitation was followed by a chorus of the Rabindra Sangeet, "Aguner Parashmoni Chh(n)owao Praney" and solo performances. The event ended with the chorus of the Nazrul Sangeet "Karar Oi Lauho Kopat."
Members of Uttaran, Social Advancement Center, Jatiya Mahila Sangstha and Walton jointly organised the programme.