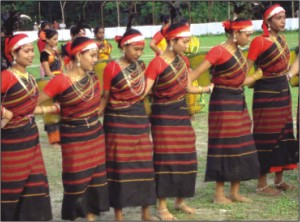 Daylong 'new rice festival' of the Garos of greater Mymensingh region was held at the Birishiri Upajatiya Cultural Academy on Tuesday. The programme was organised by Birishiri Upajatiya Cultural Academy. Garos from different areas in greater Mymensingh attended the event.
Every year around this time (Bangla month of Agrahayan), Birishiri Upajatiya Cultural Academy organises this event to celebrate the harvest of the aman paddy.
During the celebration, the Birishiri vicinity became vibrant with young men and women in traditional attire. A daylong cultural programme was held at the academy premises. Artistes of the academy and the local communities performed their traditional songs, dances and play at the programme.Artistes of the academy also rendered Bangla songs to welcome the harvest season.
Apart from members of the indigenous community, hundreds of local Bengalis, especially students of different schools and colleges in Durgapur upazila, enjoyed the celebration.
Prior to the cultural programme a discussion was held. Presided over by Uttam Richil, (director of the academy), indigenous leaders, teachers and social workers spoke at the discussion.