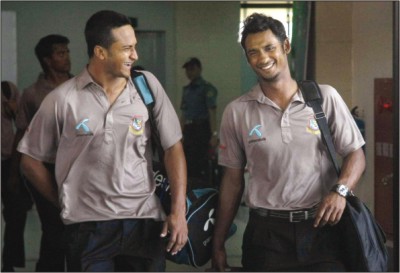 Both Bangladesh and the touring England team arrived here in Chittagong yesterday to play the third and final ODI, the first Test match and a 3-day warm-up match at the Zahur Ahmad Chowdhury Divisional Stadium.
The Bangladesh team reached Chittagong at 1:20pm and they settled themselves into the Peninsula Chittagong.
However, the visiting English team failed to land here at the scheduled time of 5:30pm due to a flight delay. They later cancelled their flight in GMG Airlines and departed Dhaka by the 7:10pm flight of Biman Bangladesh Airlines.
The English team will also stay at the same hotel.
Both the teams are scheduled to go for a training session today before their third and final one day international at the Zahur Ahmed Chowdhury Divisional Stadium tomorrow.
After a one-day interval the touring team will then take on a Bangladesh A-team in a three-day warm-up match scheduled to start from March 7.
After another two-day interval the England team will play the first of the two Test matches with Bangladesh from March 12.
The England team is playing against Bangladesh here seven years after they played a match at the MA Aziz Stadium in 2003.
The matches at the Zahur Ahmed Chowdhury Divisional Stadium will help the English get an idea about the conditions of atmosphere and the wicket here before the World Cup match they are scheduled to play at the same venue next year.