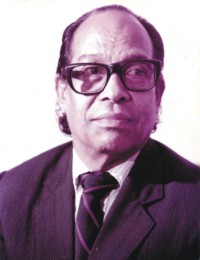 DR. Ahmed Sharif, the doyen of Bangladesh's Marxist intellectualism, was born on February 13, 1921 and died on February 24, 1999 on his way to hospital. He had had a massive heart attack. The nation remembers him with pride for his wisdom, courage and friendliness. He was a non-conformist who believed in free thought.
I have not been a committed Marxist but I have always respected the leftists, especially the dedicated souls among them. I admired Lenin and the Russians. I remained grateful to the Russians for their support during our war of independence. I have always been an unashamed admirer of Tolstoy, Dostoevsky, Anton Chekhov, Ivan Turgenev and Maxim Gorky. So, the Russians are a favourite with me. I also admired all that was positive about China and its communism. I liked the Labour Party in Britain and the Democrats in the USA. I always found them more humane than the Conservatives and the Republicans. You can call me a Socialist Democrat. I admired Sher-e-Bangla for his love of farmers, Maulana Bhashani, Moni Singh and Bangabandhu Sheikh Mujib. I thus had no problem in admiring Dr. Ahmed Sharif and his Marxist ideals. He was the friendly non-conformist we always liked to listen to.
I was part of Ahmed Sharif Sir's Friday morning adda. I attended it not at a stretch but with breaks. But I enjoyed the adda thoroughly. We were bound by Sir's overwhelming affection, his courage and wisdom and his generous 'feeding' in the form of 'jhalmuri', 'chire bhaja' and tea. From Rashed Khan Menon to Dilip Barua, from Bashir Al Helal to Aziz Misir, from Mustafa Majid to Neamul Huq, we simply loved his company. He was our fatherly friend, always ready to fight for a noble cause. His wisdom and scholarship were matchless. His courage and eagerness to speak the truth were unparalleled too. You could disagree with him but you could never ignore him.
Ahmed Sharif fought a life-long battle against fascism, communalism and fanaticism. He was always anti-establishment. He was thus neither a friend of the religious fanatics nor of the government. He loved to question and provoke and whatever he said or wrote caused a lot of furore among thinking people. He was a misunderstood person and was considered controversial. This was mainly due to his outspoken views against the establishment, pro-establishment intellectuals and politicians. He searched for knowledge and loved the poor. The government and the elite class avoided him. He proudly avoided them too. The government-controlled media also positively avoided him. Thus he was read less than he deserved to be. He was also misinterpreted by opportunistic intellectuals and grasping politicians. Only the very curious came to know the real Ahmed Sharif. He was a born rebel and the young always loved him for this quality. They flocked to listen to the great 'fighter'.
Ahmed Sharif was born in Patiya, Chittagong. He did his MA in Bangla from Dhaka University in 1944. His received his PhD in 1967. After working for while in a college and Radio Pakistan, he joined Dhaka University as a Research Assistant in the Bangla Department on December 18, 1950. He retired as Chairman and Professor of the department thirty three years later. He was elected President of the Teachers' Association and was elected Dean of the Faculty of Arts for three consecutive terms. He was one of the most popular teachers ever to teach at Dhaka University. For a couple of years in the mid-eighties he was a Kazi Nazrul Islam Professor at the University of Chittagong.
Dr. Ahmed Sharif was considered an outstanding scholar on medieval Bangla literature. He had excellent publications on the subject. He wrote brilliantly on contemporary social, political and cultural issues. He received many valuable awards, the most outstanding of which were the Bangla Academy Award in 1968 and the Ekushey Padak (given by a caretaker government) in 1991. Rabindra Bharati University conferred upon him a Doctorate of Literature in 1995 for his outstanding contributions to Bangla literature. He delivered a number of memorable commemorative and institutional lectures. He was connected with many progressive socio-cultural organizations. We can conclude that he was a selfless man who earned knowledge to serve society and the people.
Ahmed Sharif was never one for compromise. I am sure he didn't know how to compromise. While fighting communalism and fascism, he received many death threats but was never afraid. His school of free thought and his courage influenced several generations of young people. He talked to the young at the Suhrawardy Udyan. I have mentioned his popular Friday adda before. There he shared with us what he knew. He taught us to gather knowledge. He taught us how to live our life. He was mentally younger than us. In fact, he was much ahead of his time and his ideas were too radical for us to understand and appreciate.
The death of Ahmed Sharif on February 24, 1999 shocked the whole nation. The progressive section of our people lost its most courageous thinker and activist. His ideas, his courage, his youthfulness and his eagerness to fight for a noble cause will be long remembered by Bengalis. His contribution has enriched Bangla literature immensely. Before his death he decided to donate his eyes and body for the benefit of mankind. An Ahmed Sharif is perhaps born only once in a century.
Junaidul Haque writes fiction and essays. He is a senior airline official .