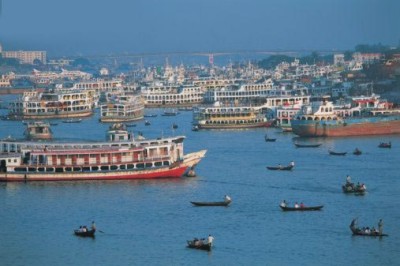 DURING these bad economic times, the aphorism "a rising tide lifts all boats" (ARTLAB, for short) has received more than its fair share of public attention in the media and policy circles in the USA. The idea behind this concept is the age-old faith that economic growth and rising GDP benefit all citizens. Believers in ARTLAB contend that the government does not need adapt its policies to help any group or industry specifically, but needs to focus on broader macroeconomic goals and, eventually, when the country is out of recession, there will be jobs for everyone.
Unfortunately, we've seen time and again that a rising tide does not necessarily lift all boats, for example boats that have a hole or need to be otherwise repaired. Also, a macroeconomic stimulus, including general tax cuts and an easy money policy, may be beneficial for the vast majority of the population, it does often bypass many segments of the economy and various vulnerable groups of people even when the economy is moving forward.
ARTLAB supporters, most of whom advocate free-market policies, are not necessarily all entrenched in the Chicago School. The phrase actually gained circulation in the early 1960s during the presidency of John F. Kennedy, who in a speech delivered in 1963 referred to this home-grown wisdom popular among fishermen in his native Cape Cod in Massachusetts.
Recently, the Obama administration, in confronting very bleak economic and financial conditions, and in reaction to growing expectations among the labour movement and minority groups, has used this argument to deflect criticism that its policy is helping the "fat-cats" more than the average Joe.
ARTLAB has also served as a refuge for the Congress and state governments in the face of pressure to provide special assistance to construction workers, teachers, and other laid-off adult workers. Unfortunately, data clearly show that even as the economy in the USA and other countries picked up momentum in response to government stimuli, many segments of the American economy are still hurting and have suffered more than others. The blacks, particularly black youth, and the workers in industrial belt of the Midwest fall in this category. A recent statistic showed that while the national unemployment rate is 10 percent, the jobless rate among blacks is 15.6 percent, and it is close to 25 percent among black youths. Another study shows that only 4 out of 100 low-income black students found work last fall.
At an event early during his administration, President Obama said that he did have not any special programs for the black people, since he expected that the stimulus package would help the blacks as much as the rest of the economy. A rising tide lifts all boats, he added. Since then, evidence indicates that this has not happened. However, his administration still believes in the now discredited view that "what's good for General Motors is good for America." In a radio interview the president said: "I am passing laws that help all people, particularly those who are most vulnerable and in need. That in turn is going to help lift up the African-American community."
While it is not clear whether politicians use the ARTLAB defense to justify their inability to assist the poor and often disenfranchised segments of an electorate, its applicability has been questioned in public debates in the last half century. To take the example of boats, it is common knowledge that vessels that have leaks or have run aground will not be lifted by rising tides.
When President Kennedy originally used it, some of his advisors were adherents of the "trickle down" theory in economic policy, which was popular among the "development economics" experts of the 1960's. However, some of his close economic advisors were voicing doubts about ARTLAB even during his administration. Walter Heller, his Chairman of Council of Economic Advisers said: "The government must step in to provide the essential stability [of the economy] at high levels of employment and growth that the market mechanism, left alone, cannot deliver."
Economists and social analysts have noticed that while, during sustained economic growth, all segments of the economy experience growth in income and employment, during a period such as now, when the economy is recovering from a recession, some sectors will grow faster than others and the distribution of the gains will be uneven.
The assertion that all will benefit from a rising tide is not borne out by historical data, and, even in the best of times, to state that everyone is able to share in the economic largesse is a myth. In the year 2010, it is feared that foreclosures and prolonged periods of unemployment will continue to be two of the sore points in the economy, the "Achilles Heel," as it struggles to regain its momentum. A rising tide might not be able to lift these two boats.
Last week we saw some encouraging news in the housing market. According to reliable sources, more than 850,000 homeowners facing foreclosure were able to renegotiate their monthly payments to 30 percent of their income. Unfortunately, those who lost their jobs do not benefit from this program\, known as Home Affordable Modification Program. "The existing program was almost explicitly designed not to help people who had lost their jobs,'" says Paul S. Willen, a senior economist at the Federal Reserve Bank of Boston. "It's a huge hole in the program. It's the hole in the program."
As social scientists are aware, unemployment and foreclosures leave an indelible mark on a family that "rising tides" do not help to erase. Family life, children, and health (including mental health) frequently take the immediate hit, and close on their heels are one's credit ratings and marriage. As the duration of unemployment gets longer, the collateral damages become even more severe.
Then there is the so-called the "ratchet effect." As GDP increases, many economic agents are able to move up, but when the GDP stops growing, it is not as easy to scale back. Contracts are harder to renegotiate instantly, nor is it easy to cut costs that were scaled up in boom times. More than businesses, households have the hardest time in ratcheting down their consumption.
Some of the impact goes deeper. As a consequence, when you experience a job loss, and health insurance is no longer there, even a rising tide does not lift you up. A prolonged period of recovery might help those who are hit the hardest, but one is not sure how long this might take. And, in the long run, as Keynes said, "we are all dead."
So, Mr. President, a rising tide does not lift all boats. Some boats suffer damages, some lose their occupants, and others become too costly to run. And while the big boats and newer boats can sail away, the ones that stay behind need a little help to join the rest to sail out.
Dr. Abdullah Shibli is an economist working in Boston, USA.