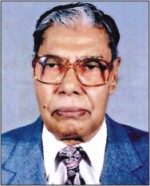 Born at Netrokona in September 1916, Dr. Innas Ali was awarded the M.Sc. degree in Physics from the University of Dhaka in 1940 and stood First class First in the Electronics group. His research subject in M.Sc. course was 'Atmospherics at Dacca in mid and high frequency channels'. He carried out research in Ph.D. course on Nuclear Physics, electron design and construction of the 25 MeV electron accelerator, the Micotron and studies in nuclear structure under the supervision of Professor (Sir) H.S.W. Massey, F. R. S., the then Chairman of the Department.
He received Master of Electrical Engineering (M.E.E.) degree from the U.S.A. ( 1947-1948). Dr. Ali also performed research on "Dielectric properties of Crystals in the radio frequency range" in the Indian Institute for cultivation of science under supervision of K.S.Krishnan in Calcutta from 1941-1942.
Dr. Innas Ali held many important positions at home and abroad. He was Professor and Head of the Department of Physics, Dhaka University (!948-1963). Other positions he held include: Member, Pakistan Atomic Energy Commission (1963-1967); Dean of the Faculty Science, Dhaka University (1968-1972); Vice-Chancellor, Chittagong University (1972-1973); Founding Member, University Grants Commission; Founding Chairman, Bangladesh Atomic Energy Commission (1973-1976); Science Advisor to the President of Bangladesh; Member, Planning Commission (1976-1979); Professor of Nuclear Engineering, King Abdul Aziz University, Jeddah (1979-1982); Founder Chairman, ESTCD Trust and Rector of Independent University of Bangladesh (1990).
Professor Ali led Pakistan delegation to the UN Conference on Peaceful Uses of Atomic Energy held in Geneva in 1958 and 1964, respectively. He was the Member, Pakistan delegation to the UNESCO General Conference in 1962 and 1964; Member, Pakistan delegation to the International Atomic Energy Annual Conferences (IAEA), 1964 and 1966; Governor, Board of Governors, IAEA, 1966-1967 and 1975-1976.
He also led Bangladesh delegation to the IAEA General Conference in 1974, 1975 and 1976; became Member, Expert Committee of Organization of Islamic Conference (OIC) for founding IFSTAD (1975-1979).
Dr. Ali was the elected fellow of the Third World Academy of Sciences (TWAS) in 1991 and President, Bangladesh Academy of Sciences (1988-1992).
In recognition of his significant work, he was awarded Bangladesh Independence Day national Award for Science and Technology in 1991. He was offered the position of Bangladesh National Professor in 1994. He also received Lifetime Achievement in Science and Technology Award, Bangladesh Academy of Sciences 2007; Science Education and Research, Honorary Fellowship, Bangla Academy 2007.
This leading light of science is now on his deathbed. He is now under his daughter's care at her Shyamoli residence in Dhaka.
The author, a regular science writer, formerly served as PRO of the BCSIR.