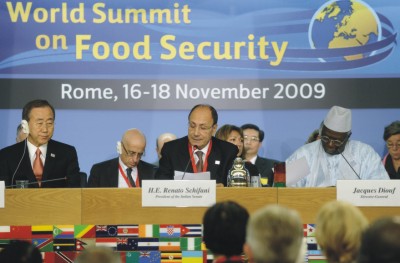 World leaders at a food summit on Monday rallied around a new strategy to fight global hunger and help poor countries feed themselves, but failed to pledge funds sought by the UN.
The summit approved its final declaration during its first hours in a show of broad consensus. Countries pledged to substantially increase aid to agriculture in developing nations, so that the world's 1 billion hungry can become more self-sufficient.
The summit did not commit to a specific figure of $44 billion a year for agricultural aid that the UN Food and Agriculture Organisation says will be necessary in the coming decades.
The agency, which is hosting the three-day summit at its Rome headquarters, had also hoped countries would adopt 2025 as a deadline to eradicate hunger. But the declaration instead focused on a pledge set nine years ago to halve the number of hungry people by 2015.
Shortly before delegates approved the declaration, the UN chief called on rich and powerful countries to tackle "unacceptable" global hunger.
"The world has more than enough food," UN Secretary-General Ban Ki-moon told delegates at the meeting in Rome. "Yet, today, more than 1 billion people are hungry. This is unacceptable."