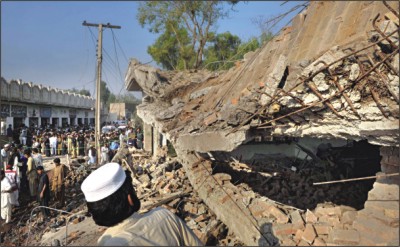 A suicide bomber yesterday blew up a car packed with explosives near a college in Peshawar, killing four people in the latest attack on a city beset by Taliban-linked violence.
The bomber struck in a suburban road as children were going to school in the northwestern Pakistani city, devastating a mosque, destroying two rooms at a boys' college and bringing down one wall of a police station, witnesses said.
It was the fifth suicide attack in eight days to hit the sprawling city of 2.5 million people, which lies on the edge of Pakistan's lawless tribal belt, where US officials say al-Qaeda are plotting attacks on the West.
Attacks in the northwest have soared as 30,000 Pakistani troops press into Taliban strongholds in the hostile terrain near the border with Afghanistan, where 100,000 Nato and US troops are fighting a deadly insurgency.
"The death toll is four and there are 26 injured," doctor Zafar Iqbal of the Lady Reading hospital told AFP. One child was among the dead and four people were wounded.
Witnesses said that a pick-up vehicle sped towards the police station and exploded nearby, leaving much of the building in ruins as ambulances raced through the streets of the densely populated suburb of Budh Ber.
Teacher Mohammad Shahid said he had just dropped off his children at school when he heard a deafening blast, which left a crater five foot deep and nine foot wide (one metre by two metres).
"I looked back and saw parts of a vehicle flung in the air and then the body of my neighbour fell on the ground near me. It was a horrible sight," he said.
Javed Khan, who drives a horse-drawn cart, said the car had sped towards him, forcing him to leap out of its path, before the explosion hit.
"I fell on the ground. Shrapnel hit my forehead. I saw debris all around and people crying for help," Khan said.
Provincial police chief Malik Naveed told AFP that three paramilitary personnel deployed outside the police station were wounded.
"A chain barrier was placed to close the road leading to the police station. Our three Frontier Constabulary men, who were trained snipers, were posted there and got injured in the blast," he said.
"When the bomber broke the chain with his vehicle, one of the snipers fired at him and he was injured. That is why he could not reach close to the police station."
Pakistan's security forces are on the front line of a deadly al-Qaeda-linked campaign that has killed more than 2,530 people in 28 months in the nuclear-armed Muslim country and has recently increased in intensity.