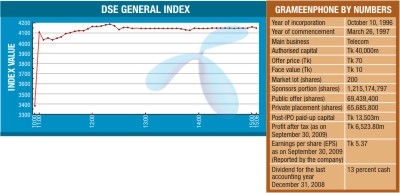 It was Grameenphone that stole the show yesterday. Its share trade debut on bourses set a milestone.
On Dhaka Stock Exchange, each Grameenphone share opened at Tk 160 and rose as high as Tk 195. It closed up 153 percent at Tk 177.30, compared with the IPO price of Tk 70 each.
It was a long way to have Grameenphone in the market. Although Grameenphone's listing was expected to complete in July 2008, its share trading started around one and a half years later because of several challenges, including global economic downturn and revision of IPO size.
Riding on the trade of Grameenphone shares, the Dhaka bourse witnessed the highest-ever single day jump in indices and in the total market capitalisation.
However on the Chittagong bourse, Grameenphone shares did not impact indices, as their adjustment method is different from the bourse in the capital.
The most significant feature is that Grameenphone joined the stock market with the largest-ever issue having 13 crore ordinary shares of Tk 10 each. However, the offer price was Tk 70 per share, of which Tk 60 was premium.
The benchmark index of Dhaka Stock Exchange, DSE General Index (DGEN), skyrocketed by more than 764 points, or more than 22 percent, of which Grameenphone alone added 717 points. With the landmark jump in the key indices, the DGEN crossed 4,000-mark for the first time and finally closed at 4,148.11 points.
The broader DSE All Share Price also shot up by 600.08 points, or 21.18 percent to 3,432.33.
Total market capitalisation jumped to Tk 1,76,384 crore from Tk 1,50,336 crore on Sunday, showing more than 17 percent jump over the previous day.
The market capitalisation reached Tk 23,940 crore as per yesterday's closing price.
Market capitalisation represents the aggregate value of a company or stock. It is obtained by multiplying the number of shares outstanding by their current price per share.
A total of 74,30,400 GP shares worth Tk 132.22 crore were traded on the premier bourse, making the cell phone operator the top turnover leader.
"These were expected," Satipati Moitra, acting chief executive officer of DSE, told a press meet after the trading hours.
He said it is the largest public offering in the history of Bangladesh capital market, and now it is the biggest-ever issue that is being traded on the market.
"The jump in the index was normal and there is nothing to be worried with huge fluctuation in the index," Satipati said.
Market experts also said the market was very much stable, although there was a fear that a mega size issue like GP would put some negative impact on the market.
"Increase in share prices in other sectors showed Grameenphone did not cast any negative impact on the market. It will not only increase the confidence about the market, but also proved that our market is ready to absorb any kind of security," Arif Khan, deputy managing director of IDLC Finance, told The Daily Star.
Trading debut of Grameenphone shares is definitely a milestone for Bangladesh capital market, he said, adding that other big companies will also be encouraged to be listed on the stock exchanges.
"Inclusion of a largest corporate body like Grameenphone will have a positive impact," he said.
The leading mobile phone operator raised Tk 486 crore through initial public offerings (IPO) and another Tk 486 crore through pre-IPO or private placement.
Thousands of investors were found crowding in front of trading stations to place sale or buy orders on the trading screens for Grameenphone shares.
Some brokerage houses even cancelled taking buy and sale order for shares over telephone, a common phenomenon, for yesterday.
"Investors' presence is so high that our operators are passing a tough time to place sale and buy orders," said a DSE broker during the trading hours.
Norway's telecom giant Telenor owns Grameenphone's 62 percent stakes, while the rest is owned by local Grameen Telecom.
Grameenphone is the most profitable mobile phone operator in the country, with its revenue expecting to hit billion dollars mark by the year-end.
On the DSE yesterday, a total of 2,91,40,544 shares and mutual fund units changed hands. Of the traded securities, 192 advanced, 37 declined and one remained unchanged.