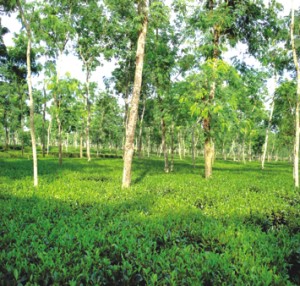 If you drive to Bogra and beyond, you would stop over for a break at the Aristocrat, a decent and clean restaurant, a stone's throw from the roundabout of Pabna, Rajshahi, Bogra and Sirajganj. As the doorman opens the door, you are greeted with a waft of friendliness. The large size luchi with vegetable bhaji, an omelette and a sweetmeat to top off is a welcome meal. Even the tea is special and soothing. As we were gorging up on the delicious food, I noticed a familiar face across the tables. Taking care the luchi, oil was on the tissue and not on my fingers, I walked up to greet him. What a pleasant surprise because I knew Mintu Bhai from Chittagong and it was unusual to see him so far up. So what are you doing here? I asked. We're returning home from Tetulia. Oh Tetulia!
Many of us are aware that Tetulia, at the northern most tip of Bangladesh, has suddenly become a lure for big bucks. If you have cash with an eye to invest, it seems Tetulia is the place. Why this sudden interest? As you relax in the veranda of the bungalow on the bank of the Mahananda river on a clear night, you see the faint glittering lights of Darjeeling perched in the faraway hills, famous for its tea. The sloping hills of Darjeeling merge at the plains of Tetulia making the land ripe for tea plantation. Like the first undulating tea garden set up in Sylhet in 1854, tea has found a foothold in Tetulia.
During a recent social gathering, I met Mosharraf Hossain and his colleague Monjur Hossain, veterans of the tea industry. Mosharraf is a veritable treasure of knowledge on tea. You could feel his passion for tea and the pioneering role of using this relaxing beverage as a tool for poverty alleviation and food security. Having retired after thirty years living in tea gardens, he was wondering what to do. A flash of innovative idea led Mosharraf to think, why not separate tea production and processing, like jute? Jute is grown by farmers, bought by and processed in mills. With that seed of a thought, he sought out his recently retired colleagues who too thought it was an idea worth trying. As is wont to happen with innovative ideas, their colleagues in Sylhet gardens smirked at their audacious thought.
Looking at the geography of Bangladesh, the only sensible place where tea could be grown was in Panchagarh with 16,000 hectares of hospitable tea soil. As the managing director, Mosharraf and his colleagues formed Tetulia Tea, and with a missionary zeal, began preaching benefits of tea cultivation to sceptical farmers. Overcoming hurdles of all kinds, the first ever tea sapling in Tetulia was planted by Mosharraf in April 2000. Soon the tea boom began to take shape as investors gobbled up hundreds of acres setting up tea gardens.
Mosharraf and his team, on the other hand, discouraged farmers to sell and instead encouraged them to cultivate tea on their own land, and till date, 950 hectares have been planted by individual tea farmer-entrepreneurs.
His firm set up a tea processing plant as well as a nursery that clones and gives out tea saplings to farmers willing to invest in tea production. They have completely turned around the concept of large tea gardens to individual farmer holdings. The smallest tea garden is a 35-decimal plot. Production in Tetulia is 4,500 kg versus 1,200 kg per hectare in Sylhet, bringing in huge dividends to farmers.
Over a cup of tea, Mosharraf explained how their venture is helping local farmers sustain their lives profitably with a guaranteed future as the tea plants mature in ten years and will give stable production for the next 60 years.
As Mosharraf enlightened us, Bangladeshis seem to have developed a real taste for tea. Twenty years ago, we produced 39 million kg of which local consumption was 16 million kg and 60 percent was exported. Having produced 59 million kg in 2008, we consumed 51 million kg locally and exported the rest 14 percent. This is 150 gm in 1989 and 340 gm per capita, per annum today.
With this rising annual consumption and a stagnating land situation, Bangladesh would need to import tea from 2016 unless we find more land to grow. So Mosharraf and his colleagues' endeavour to grow tea in Tetulia is a double opportunity for the local farmers and for our country.
Abdul Haque, now 46, with a family of 5, used to struggle for a livelihood. Owning 2.5 acres of land, half of which remaining fallow, the other half would yield 350 kg of rice that the family could stretch out for barely three months. He had to labour out, feeding his family hand to mouth, with his daily wages.
As soon as Tetulia Tea began to take roots, Haque came seeking for a daily labour job. Convinced at the sight and growth of succulent tea plants, he took the plunge in 2002 and planted tea saplings on his fallow land. He had nothing to lose anyway.
Three years later, his first 3,700 kg of tea brought Tk 40,000 -- enough to feed his family for the whole year, truly food secure for the first time in his life. The year 2008 saw him make his first ever Tk 1 lakh. For Haque, this is like owning the Aladdin's magic lamp with the tea genie making his dreams come true. Affluent Haque and his posterity, now live happily ever after.
Margaret Mead, a famous anthropologist, says: "Never believe that a few caring people can't change the world. For, indeed, they are the only ones who ever have." This quote aptly describes people like Musharraf and his colleagues, who quietly without ado, fanfare or seeking international glory, are changing scores of downtrodden lives for the better, showing them a way out of perennial poverty. If anything is a social business, this is one, truly social, truly business. Buy land in Tetulia, not that you may find any. If you are lucky enough, you may soon be a proud owner of a tea garden.
The writer is managing director of Syngenta Bangladesh Ltd.