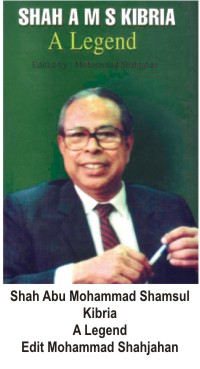 THE cover shows the editor of 'Mridubhashan', his smile displaying all the attributes awarded to him by Bengalis. Reviewing this compilation I felt much as an interviewer does, and so goes the style of this review.
K.M. Sobhan mourns the assassination of a successful diplomat, ex-finance minister, economist and columnist of reputation and a highly placed officer at the UN.
He was a man of sharp intellect, great capacity for absorption of details, a laidback style, which was compensated by his organized thoughts and by his commitment to excellence. A.M.A Muhith.
Kibria severed ties with Pakistan for the Bangladesh cause in 1971. There was humility matched by an equal degree of bluntness. He did not suffer sycophants and had an abundance of self-esteem. His death leaves us a whole lot poorer than we can imagine. Syed Badrul Ahsan
His life was a most distinguished one. He stood first in 1954 in C.S.S examinations and joined the foreign office. Trained at Boston's School of Law and Diplomacy he condemned use of black money and muscle power in politics. - Prof. Kabir Chowdhury
He contained, remarkably, unemployment and inflation, the two hydra-headed monsters -- Dr. S A Samad.
He was an institution, not a mere diplomat. After successfully piloting the adoption of International Mother Language Day resolution at the UNESCO he personally complimented me. --- Muazzem Ali
To Kibria, 'efficiency' itself was a kind of 'loyalty' which a purely 'political eye' may not be able to discern. Md. Farashuddin
As a student he served a short prison term for association with the Language Movement. Taught Economics at DU. ---Dr. Mashiur Rahman
Only the perpetrators of this dastardly act can gloat over the atrocious event. Their professionalism will be a cause of envy of the scriptwriters of Mafia films.
--- Abdul Hye
He heard from others rather than unilaterally delivering his opinions. He carried the typical trait of Manmohan Singh. He never bent to donors. --Abdul Bayes.
…was one of the staunchest voices for secularism and against extremism, terrorism, increasing use of religion in our politics and an early voice against Taliban penetration into our politics. ---Mahfuz Anam
Kibria is dead as Mrs. Ivy Rahman and others, who were no less to their kinwe are angry at the recurrence of the gory event. Enayetullah Khan
These incidents will turn out to be latitudes if the 'unknown assailants ' remain 'unidentified'- a challenge the govt. faces. --- Moazzem Hossain
Four others including his nephew Shah Monjurul Huda died. Kibria was angered by some pieces in the Financial Express, as he did not like criticism from media, and made it known to Moazzem Hossain and Devapriya Bhattacharya..
Syed Kamaluddin.
He was simple; he did not pay any heed to Abdul Gaffar Chowdhury's warning of his life's risk. --- Shahjahan Mia
Our soil did not give birth to too many of Kibria's breed in talent, in conviction of virtues that form the cornerstone of any modern state. ---Dr. Mozammel Khan
Kibria felt hurt at our image as a 'bottomless basket'. So, he worked tirelessly to convert it into a food self-sufficient state. --- Dr Mozzem Hossain.
The two legs of one of the finest polished gentleman were thrown out of his abdomen, receiving splinter injury on head and chest and probably died on the way because of profuse bleeding. Dr. Ajoy Roy
His efforts for the eradication of poverty brought results- helped flow money to the lowest rung and benefited millions of widows, elderly people and flood victims. Dr Shabbir Ahmed.
A coincidence that a man whose heart would melt at the agonies of the have-nots was born on May 1 --- the day which symbolizes inspiration of the toiling masses. SHAMS means sun and KIBRIA means greathe had all the qualities of head and heart. Fazlul Quader Quaedri
Politicians as a class are a much maligned entity but Kibria never practised corruption or nepotismArshad Uz Zaman
Justice delayed is justice denied. Time has come for the government to bring the criminals to justiceMd Zamir
We were extremely close...His joining the Awami League was a historical accident --- Rezaul Karim.
Though teamwork, he secured the seat of Security Council… he was instrumental in opening the Bangladesh residing embassy in Bhutan, and the embryo of SAARC was formed. -- Barrister Harun ur Rashid.
As High Commissioner in Australia he was complimented 'Thorough Professional' ---Ziaus Shams Chowdhury.
Reza Kibria lowered his late father for 'dust unto dust' on 29th January. The speaker who personifies neutrality was absent though he had made much ado about conducting Namaz e Janaza on the steps of South Plaza of the Jatiya Sangsad and came to know of his death through newspaper! - M Shafiullah
A greater political alliance beyond the existing ideological and political divide is needed that will make terrorists think twice before they engage in criminality.
-Khairul Chowdhury.
His write-ups were constructive rather than overstating…make him appear to me an unfathomably consummate thinker…nothing will happen to the killers and his case will also go to the cold storage. ---Bahzad Ahmed.
Kibria's liberal views of the statecraft, social structure and welfare of the people, regardless of religion and sect made him the target! Md. Azadullah Khan
Those who destroyed him cannot destroy his contributions and memory.
Turning a blind eye is also a culpability in another formHistory will judge one day! Nasreen Karim
…….during a silent protest demonstration, protestors came to me ' they did not just kill your father, they killed us'. My family are asking for an independent international investigation team-they must be brought to justice---Nazli Kibria
My khalu was a father figure in our extended family, always immaculately dressed. He was about to give his country gift of diplomacy and ethics in politics. Sayeema Sadeghi.
Mohsena Reza Shopna is a writer and past president, Inner Wheel Club of Dhaka North.