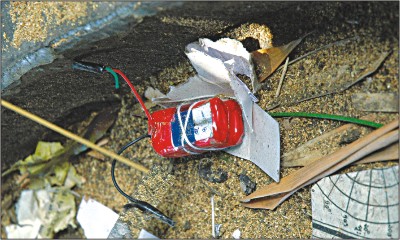 No effective measure was taken by any government to punish the patrons of the outlawed Islamist outfit Jama'atul Mujahideen Bangladesh (JMB) that launched an unprecedented countrywide bomb attack on August 17, 2005.
The law-enforcement agencies during their drives against militancy have so far arrested over 550 JMB militants including many of their top tier leaders.
However, no initiative by the law enforcers was ever seen to bring the patrons of these militants to book.
A number of victims in northern Rajshahi region individually filed cases against some alleged patrons of JMB. But no comprehensive effort has been seen from the government to take steps against these alleged patrons.
Former BNP minister Aminul Haque has been convicted by a court for patronising JMB and some other BNP leaders have been accused in cases filed by victims in Rajshahi region.
Following the March 2007 execution of JMB kingpins Abdur Rahman, Siddiqul Islam alias Bangla Bhai and four others, the government showed its firm stance to detect the outfit's political patrons and take stern action against them.
The patrons of JMB would face the same punishment [execution] if they are found guilty, announced the then law adviser of the caretaker government.
"The law enforcers are looking for the godfathers. If they are netted and we learn about their roles, they will face the same punishment," he said in March 2007.
It has already been over two years when present Inspector General of Police (IGP) Nur Mohammad said: "We have already tentatively identified the patrons of the organisation [JMB]."
The ruling Awami League government also announced to take actions against the militant patrons.
Mysteriously enough, no action has been taken against anyone although names of some former BNP-Jamaat-led ruling alliance's political leaders, lawmakers and ministers surfaced as patrons of JMB in the northern districts.
The investigators working at the diktat of the then government high-ups also did not take any move to detect and expose them.
The JMB has meanwhile been trying to regroup to regain its strength. Moreover, the outfit is being united with another banned Islamist outfit Harkat-ul-Jihad-al Islami's (Huji) Bangladesh chapter despite having some differences of opinion.
Sources say under the initiative of present JMB chief Moulana Saidur Rahman and Huji leader Omar the two outfits have recently held several meetings to discuss their unity move.
Rapid Action Battalion (Rab) Director General Hasan Mahmood Khandaker said they are aware of the latest move by the militants.
"We are aware of their present activities and we are after them," said the Rab DG without elaborating.
But sources inside Rab, which is leading the anti-militant drive for last few years, say they did not yet infiltrate into the militant organisations.
"If we could plant our sources in the militant outfits, we could have learned their every update soon after the development. And as we couldn't do it yet, we now operate drives based mainly on the information we obtain from the arrested militants," says a Rab official involved in the drive for long.
The sources say both JMB and Huji are divided into various groups due to internal feuds. But yet they have initiated the unity move to take revenge on the government for the execution of six JMB leaders and also the arrest of the leaders and activists of both the organisations.
The sources add the JMB and Huji leaders have past relations as executed JMB chief Abdur Rahman formed his outfit in 1998 after defecting from Huji.
Talking to The Daily Star last night, former adviser to the caretaker government and former IGP SM Shajahan said, "It would not be possible to uproot militancy soon until taking measures against their patrons or guardians."
He said, "We have significant achievement in anti-militant drive, but militancy is not a small problem. It should not be considered that militancy has been solved after arresting and executing some of their leaders and members."
Shajahan said before the blasts on August 17, 2005 the country had witnessed some other major blasts. "But we saw blame games in the political arena and misleading investigation to divert our eyes from the real focus, which inspired the real culprits.
"It was unexpected and no politics should be on the issue as we need united efforts involving people to solve this serious problem," he continued.
"The total picture of the country's militancy problem is not clear yet as we don't know their many things including sources of money, arms, explosives and training. We think executed Abdur Rahman and Bangla Bhai are top most leaders of JMB, but I think they can have their patrons."
"We are also looking into whether anyone is working behind the scene and as part of the process, we already arrested a number of key persons who might be treated as the masterminds or patrons," the Rab DG said.
"If anybody is found involved, we must go for action against them."
Some law enforcers involved with the anti-militant drives believe the "Anti-Terrorism Law", which has already been passed would help take legal steps against the masterminds and patrons.
They think earlier there was no adequate law to bring the patrons or masterminds to book.
STATISTICS
Sources say the law-enforcement and intelligence personnel arrested 555 JMB leaders since the August 17 blasts. Of them, 80 were arrested this year.
Among the arrested JMB men, 46 are policymakers, 103 ehsar [full-time] members, 10 gaiyeri ehsar members, 17 suicide squad members and 379 are lower level leaders and activists.
The sources say Rab and police detained around 1,500 people suspecting them as JMB men. But after verification, only 555 of them were learned to have had links with JMB.
Among the arrestees, six top brass leaders -- Abdur Rahman, Bangla Bhai, Abdul Auwal, Ataur Rahman Sunny, Khalid Saifullah and Iftekhar Hussain Al Mamun -- were executed.