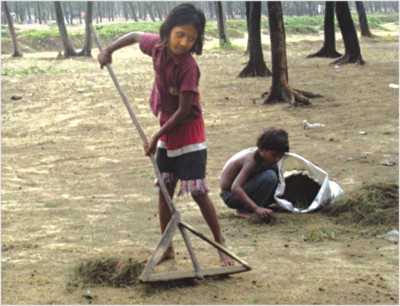 About 45,000 children are being deprived of education in Teknaf upazila as 77 out of 143 villages in the upazila bordering Myanmar have no government or non-government educational institutions.
Upazila Nirbahi Officer Md Tofael Islam said in absence of any school in the villages, a large number of children are now engaged in fishing, plumbing jobs and manual work at houses and restaurants.
Although five primary schools were set up at remote villages on private initiative, the schools facing manifold problems have remained closed for over five months.
He said they have been writing to higher authorities and various non-governmental organisations for setting up schools to bring these children under the primary education programme.
Sabrang union parishad member Fazar Rahman said, "We set up a primary school here on our own initiative for providing education to the children of the area."
But the school has remained closed for five months due to lack of funds for paying the salaries of teachers and employees putting the future of about 600 students in uncertainty.
Four other unregistered primary schools at Moheshkhalipara, Khonkar Para, Haria Khali and Unchhiprung of Hoaikkhong union have also remained shut failing to get government assistance.
The academic life of about 1,500 students of the four schools has become uncertain as most of them are now engaged in fishing and collecting firewood from nearby forests.